With no significant data releases for today the market is looking ahead to tomorrow's UK Claimant Count Change. Released by the National Statistics, it presents the number of unemployed people in the UK and has a tendency to influence the GBP volatility. Generally speaking, a rise in this indicator has negative implications for consumer spending which discourage economic growth and is seen as negative (or bearish) for the GBP, while a low reading is seen as positive (or bullish). The figure is expected to come in at -22K e.g. 22,000 people less claiming job seekers allowances.
From a global perspective, this morning sees news that the US Senate's vote on Syrian action may be postponed pending analysis of a Russian diplomatic plan designed to convince Syria to hand over its chemical weapons without any physical intervention. As this story develops we may well see USD weaken as risk appetite losens.
For a more detailed look at upcoming data releases this week take a look at our video broadcast: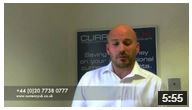 Friday's unemployment data in the US was mostly disappointing, with the economy creating barely 169K new jobs. The unemployment rate decreased to 7.3%, the lowest level in several years but perhaps not enough for the market to see significant tapering in the US and hence USD remains on the back foot.
VIEW FULL ARTICLE